COMMERCE AND TRADE GROUP
• Trade: The main aim is to buy and sell (on domestic or international markets) of goods and services
• Commerce: The main aim is to supply commodities and services to a market.
• On a general level… the words are used as Synonyms… But if we go into the detail of it… Commerce largely deals with ensuring commodities and services are available in the market… This is achieved by conducting trade… so in a way.. trade is a subset of commerce…
Historical Background
• The Trade Service of Pakistan, created in 1967, was replaced by the Commerce & Trade Occupational Group in 1973, as a result of Administrative Reforms
• It was a specialized cadre with the mandate to promote exports, manage imports and develop Pakistan's international trade.
• Its objectives included the development of a professionally competent and trained officers' cadre which could manage trade on technically proficient lines.
MISSION STATEMENT OF Ministry Of Commerce
Contributing to the national economy through trade liberalization and facilitation, improving export competiveness and reducing cost of doing business. 
Aim to achieve higher market access for Pakistani products in existing markets as well as new markets with ultimate aim of improving quality of life of the people of Pakistan 
Ministry Of Commerce CHARTER
Under the Rules of Business 1973, Commerce Division is assigned the following functions:
• Imports and exports across custom frontiers
• Export promotion
• Commercial intelligence and statistics
• Tariff policy and its implementation
• Anti-dumping duties, countervailing duties and safeguard laws
• Inter-Provincial trade
• Domestic Commerce
• Organization and control of Chambers and trade associations
• Law of Insurance and regulation and control of Insurance companies
• Administrative Control of Attached Departments/Organizations
• Selection of Trade Officers for posting in Pakistan's Missions abroad

Cadre Strength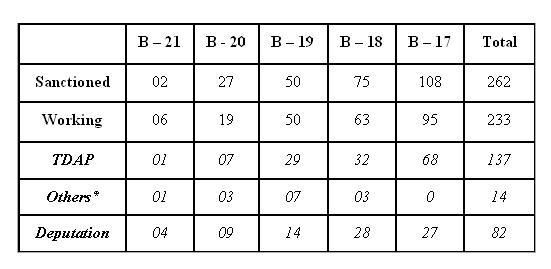 Training and Orientation
• 8 months specialized training for Grade 17 officers at the Pakistan Institute of Trade and Development, formerly, Foreign Trade Institute of Pakistan, Islamabad
• Core subjects:

International Trade Theory

Pakistan economy with special reference to exports

Global Trading System

Trade development in Pakistan: public policies and practices

Managing International business

Management studies
• Extensive Field visits & Foreign training for two weeks in Malaysia
WINGS/FUNCTIONS
Work is Distributed amongst the following Wings:

Administration

World Trade Organization (WTO)

Foreign Trade (I, II & III)

Exports

Imports

International Trade Organizations

Insurance

Domestic Commerce

AFFILIATED DEPARTMENTS/ORGANIZATIONS
• Trade Development Authority of Pakistan (TDAP)
• Trading Corporation of Pakistan (TCP)
• National Tariff Commission (NTC)
• Foreign Trade Institute of Pakistan (FTIP)
• Directorate General of Trade Organizations (DGTO)
• Pakistan Tobacco Board (PTB)
• State Life Insurance Corporation of Pakistan (SLIC)
• Pakistan Re-Insurance Company Ltd (PRCL)
• National Insurance Company Ltd (NICL)
• Pakistan Institute of Fashion and Design
TRADE MISSIONS
• Ministry of Commerce has 40 Trade Missions abroad and 57 officers
• One independent Mission headed by Ambassador and supported by four Trade Officers/Diplomats at Geneva (WTO Mission)
• Europe has 11 Missions and 17 Officers
• Asia has 14 Missions and 19 Trade Officers
• America has 5 Missions and 10 officers
• Middle East has 3 Missions and 5 officers
• Africa has 5 Missions and 5 Offices
• Australia has 1 Office, Consul General Sydney
PAKISTAN'S MISSIONS ABROAD

AFGHANISTAN (Kabul, Kandahar)
ARGENTINA (Buenos Aires)
AUSTRALIA (Sydney)
AZARBAIJAN (Baku)
BANGLADESH (Dhaka)
BELGIUM (Brussels)
BRAZIL (Sao Paulo)
CANADA (Montreal, Vancouver)
CHINA (Beijing, Shanghai, Chengdu, Hong Kong,)
EGYPT (Cairo)
FRANCE (Paris)
GERMANY (Berlin, Frankfurt)
GREECE (Athens)
INDIA (New Delhi)
INDONESIA (Jakarta)
IRAN (Tehran)
ITALY (Rome)
JAPAN (Tokyo, Osaka)
KAZAKHSTAN (Almaty)
KENYA (Nairobi)
KUWAIT (Kuwait City)
LIBYA (Tripoli)
MALAYSIA (Kuala Lumpur )
MEXICO (Mexico City)
MOROCCO (Casablanca)
NETHERLANDS (The Hague)
NIGERIA (Lagos) *
POLAND (Warsaw)
RUSSIA (Moscow)
SAUDI ARABIA (Jeddah, Riyadh, Al-Khubar) *
SOUTH KOREA (Seoul)
SPAIN (Madrid)
SOUTH AFRICA (Johannesburg)
SWEDEN (Stockholm)
SWITZERLAND (Geneva)
THAILAND (Bangkok)
TURKEY (Istanbul)
U.A.E (Dubai , Abu Dhabi)
UNITED KINGDOM (London, Manchester)
USA (Washington, Los Angeles, New York, Chicago, Houston)
* Not yet operational
Foreign Trade Institute of Pakistan 
since January 2009
PAKISTAN INSTITUTE OF TRADE AND DEVELOPMENT

• Established in 1989 as a Specialized Training Institute
• Present Training Programs:-

Specialized Training for C&T entrants

Capacity Building Training for C&T officers

Foreign Service Training

Commercial Officers' Training
• New Role: Policy Think Tank of Government of Pakistan on International Trade:-

Provide research based policy advise to all the stakeholders in Pakistan's international trade

Addition of Executive Development Division and Policy Research Division

Developing into Regional Center of Excellence on International Trade in terms of Training and Research

FUTURE OF THE SERVICE?
THE SERVICE WHICH WOULD HELP PAKISTAN GET A BETTER DEAL FROM TRADE RELATED GLOBALIZATION WOULD BE THE SERVICE OF THE FUTURE